Rockafeller's is now open for Indoor AND Outside Seating!
HERE'S THE SCOOP
MASKS REQUIRED. Disposables are available for a nominal fee.
10 person max per group
First come, first serve. No reservations at this time, except major holidays.
Dependent on business, there could be dining time limits
When you arrive, see our Rock's team member at the hostess stand. They will take care of you. If there are multiple parties of people, please be mindful and keep a social distance yourself at a minimum of 6 feet. If we go on a wait, we will ask that you stay on the property, either relaxing on your car or strolling the docks, until we text you that your table is ready.
We have strict adherence to recommended guidelines and safety protocol. Please help us keep you safe and follow our lead!
Curbside available every day – Full menu!
Call your order in, drive up, and we will bring it to your car. We are considering potential delivery in the surrounding neighborhoods.
ROCK'S MARKET MEALS
Visit our new Rock's Market to find fresh foods including house-made desserts, prepared meals, Rockafeller's Signature items, craft beer & wine, and so much more. Don't feel like cooking? Let us do it for you.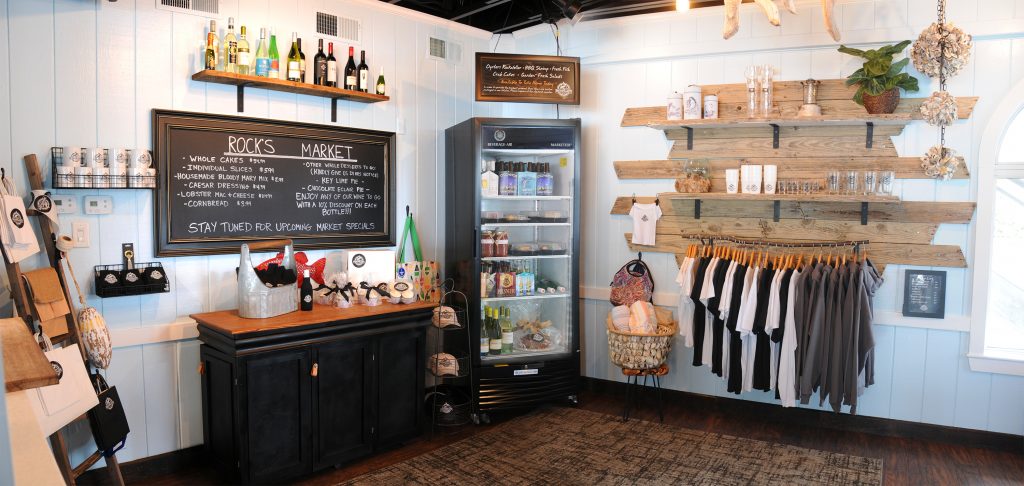 Weekly Family Style Specials will be available again in the fall.
FRESH SEAFOOD TO GO:
Place order at hostess stand check-out
Oysters Rockafeller ½-dozen 8.99
Oysters Rockafeller dozen 17.99
Salmon filet (7-8oz ea) 8.99
Tuna filet (7-8oz ea) 8.99
Mahi filet (6-7 oz ea) 10.99
Shrimp (26-30 per pound) 11.99
Bacon Wrapped BBQ Skewer (5 per skewer) 5.99
Crab Cake 7.99
She Crab Soup Cup 5.99 Bowl 11.99
All prepared food items come with heating instructions. Please call ahead for large orders, 757-422-5654.
Whole cakes available with 24-hour notice
ROCKAFELLER'S SWAG
T-shirts, sweatshirts, coffee mugs, pint glasses, shot glasses, koozies and hats
Convenient pick-up parking available