ROCK'S MARKET IS OPEN!
Visit our new Rock's Market to find fresh foods including house-made desserts, prepared meals, Rockafeller's Signature items, craft beer & wine, and so much more. Don't feel like cooking? Let us do it for you.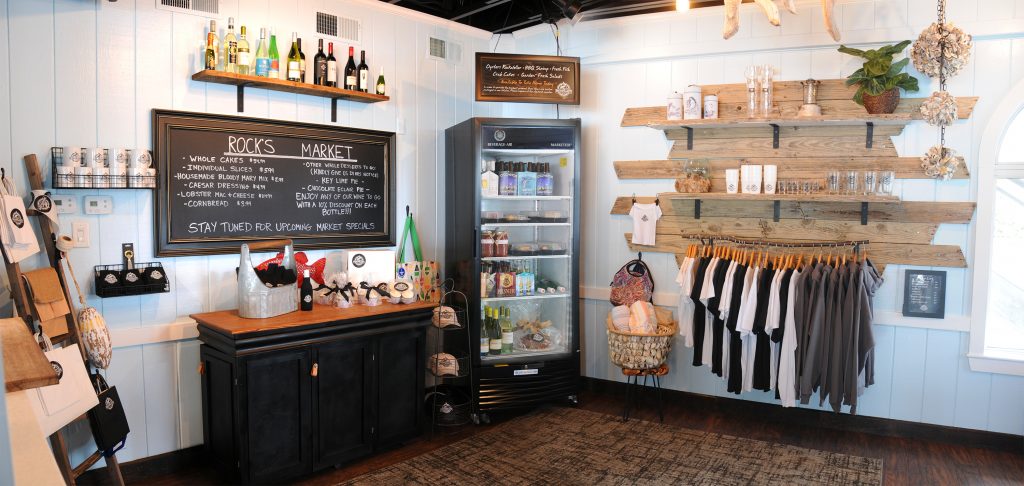 WEEKLY DINNER SPECIAL – PICK UP, TAKE HOME, HEAT AND ENJOY!

Dynamite Shrimp and Chicken over Rice For Two
FRESH SEAFOOD TO GO:
Place order at hostess stand check-out
Big Island Oysters (VA) ½-dozen 11.99
Big Island Oysters (VA) dozen 21.99
Oysters Rockafeller ½-dozen 8.99
Oysters Rockafeller dozen 17.99
Salmon filet (7-8oz ea) 8.99
Tuna filet (7-8oz ea) 8.99
Mahi filet (6-7 oz ea) 10.99
Shrimp (26-30 per pound) 11.99
Bacon Wrapped BBQ Skewer (5 per skewer) 5.99
Dry Pac Scallops (1 lb) 22.99
Crab Cake 7.99
PREPARED ITEMS – GRAB N GO:
Macaroni and Cheese (frozen) serves 4 15.99
Legendary House Bloody Mary Mix 8.99
House Cornbread (6-8 pieces) 4.99
House-made Caesar Dressing (8oz) 4.99
House Salad 5.99
Seafood Gumbo (frozen) ½-quart 9.99
Seafood Gumbo (frozen) quart 19.99
Individual Desserts 5.99
Whole cakes available with 24-hour notice
Wine To Go 25% off list price
Beer To Go
All prepared food items come with heating instructions. Please call ahead for large orders, 757-422-5654.
ROCKAFELLER'S SWAG
T-shirts, sweatshirts, coffee mugs, pint glasses, shot glasses, koozies and hats
Convenient pick-up parking available
Rock's Market is open:
Sun – Thurs 11am – 8pm
Fri & Sat 11am – 5pm